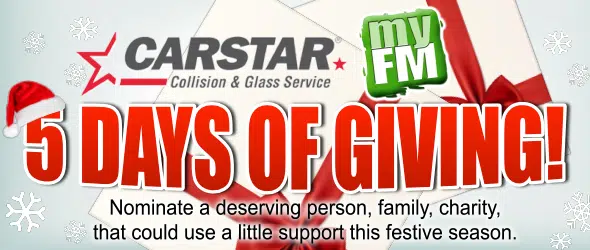 CARSTAR Collision & Glass and 94.1 myFM in St Thomas
have partnered up for the 5 Days Of Giving
Listeners are encouraged to submit the name of a deserving person or
charity between December 7th and December 13th for a chance
to win one of five $300 Gift Cards or $300 donation.
The festive holiday season can sometimes be difficult for some
individuals or families, which is why CARSTAR Collision & Glass
in St.Thomas wants to help.
If you know a family, charity or someone who could use a little support
through the Festive Season nominate them below for the
5 Days Of Giving.
On Tuesday December 18th, myFM Radio will host all 5 winners along with
CARSTAR Collision & Glass and deliver their prizes.
Contest closes Thursday December 13th, at 11:59 pm.
Please let us know who you would like to nominate and in 100 words or less
let us know why this person or charity is so deserving.